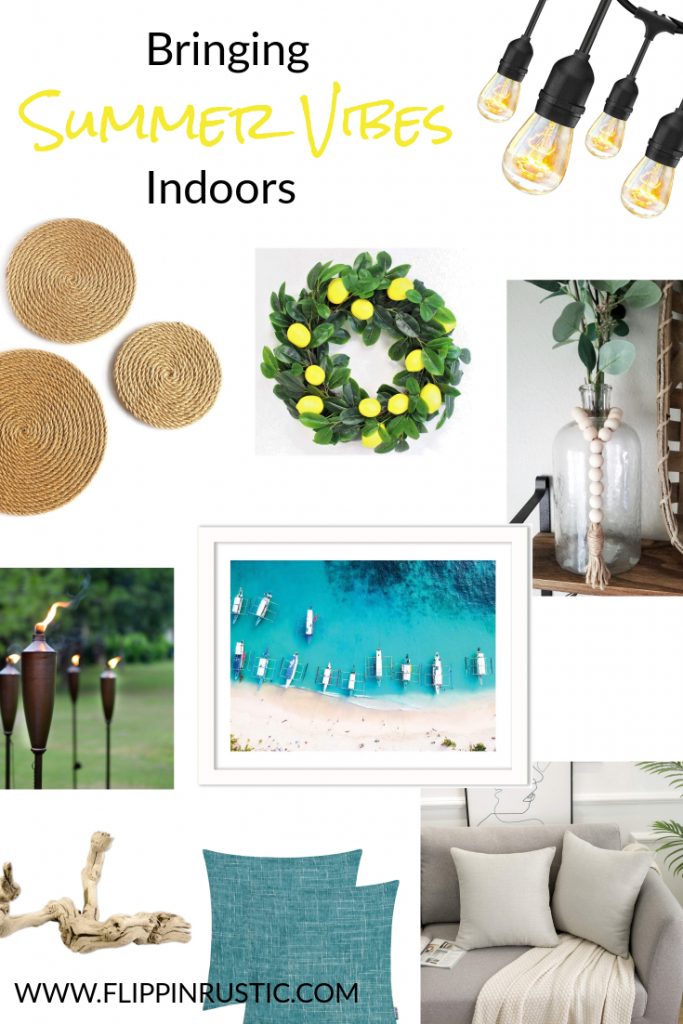 Bringing the Summer Vibes Indoors
If you live in an area that gets all four seasons, then you are lucky enough to know how precious it is when you see the snow melting, the flower blooming, and feel the warm sun hitting your face after months of the cold winter months. On the other hand, if you live in a warm area like us Floridians, extreme temperatures sometimes can prevent us from going outside but this should not be an issue when it comes to decorating the house for this beautiful season because you can bring the outdoors inside.  With that being said, here are some incredibly inspiring summer decorating ideas that can transform your home into the ultimate space no matter where you live.
Add Bright and Natural Décor
Summer is all about colors, smells, and fresh air. So, it stands to reason that one of the best things you can do is add brightness to your space to give it that lively, summer feel. This year, hues of greens, blues and oranges and super trendy. You can replace your throw pillows with brighter ones like These, or combine them with Neutral ones made out of linen or burlap which you can keep all year, add décor such as our  Wood Bead Garland Tassel to give your room elegance, vibrancy, and still achieve that rustic appeal. Add beachy/summer artwork or hang these Woven Discs and turn them into artwork, and perhaps add a Lemon Wreath to your door.
Plants and Flowers
Nothing makes your home more summer-inspired than adding plants and flowers and even branches into your home. Something such as lilacs, Eucalyptus, sunflowers, or orchids will bring wonderful color and aroma to your space. You can also be even more innovative and get a Recycled Glass Lantern filled with naturistic décor for even more summer vibes or this Grapewood Vine Branch for a rustic beach feel. You can either buy these in a store or go on a wilderness adventure to hand pick some flowers to take back home with you.
Decorate Your Outside Area
Summer is about staying outside from sunup to sundown, making campfires, grilling, and watching the stars at night. Since you will probably be outdoors more often during summer, don't forget to spice up that living space too. You can get some bright patio rugs, add some gorgeous String Lighting to your deck or patio for great night lighting, and even add some Tiki Torches for that magical effect while keeping away bugs. To add some customization to the mix, you could always get custom-built patio furniture to really personalize the space that will fulfill your summer-inspired vision. Contact us to get a quote.
You may also like our How To Get a Modern Farmhouse  Backyard post.
Use Summer Itself
Summer is home to tons of amazing things you can take with you inside to decorate your home. From cool looking rocks, flowers, as mentioned earlier, to shells from the beach, take some of that with you and create your very own centerpieces and visual points within your home. It is inexpensive, yet very effective and powerful at getting your summer-themed message across.
Conclusion
The colors, the fresh air, and the life that comes with summer is something that should not be taken for granted, even when it comes to your home. Changing up your home to reflect the season you are in is such a great way to truly absorb nature and bring a bit of the outside world inside. Try out these summer decorating tips above to switch up your rooms and see for yourself how much more energizing the home vibes will become.
Do you still need some help getting started? If you are in the Tampa Bay area, Contact us today, and we would be happy to discuss and plan your perfect interior home-design and help you pick out the best décor, all while staying within your budget.
If you like more ideas follow us in Pinterest. Don't forget to leave a comment below!