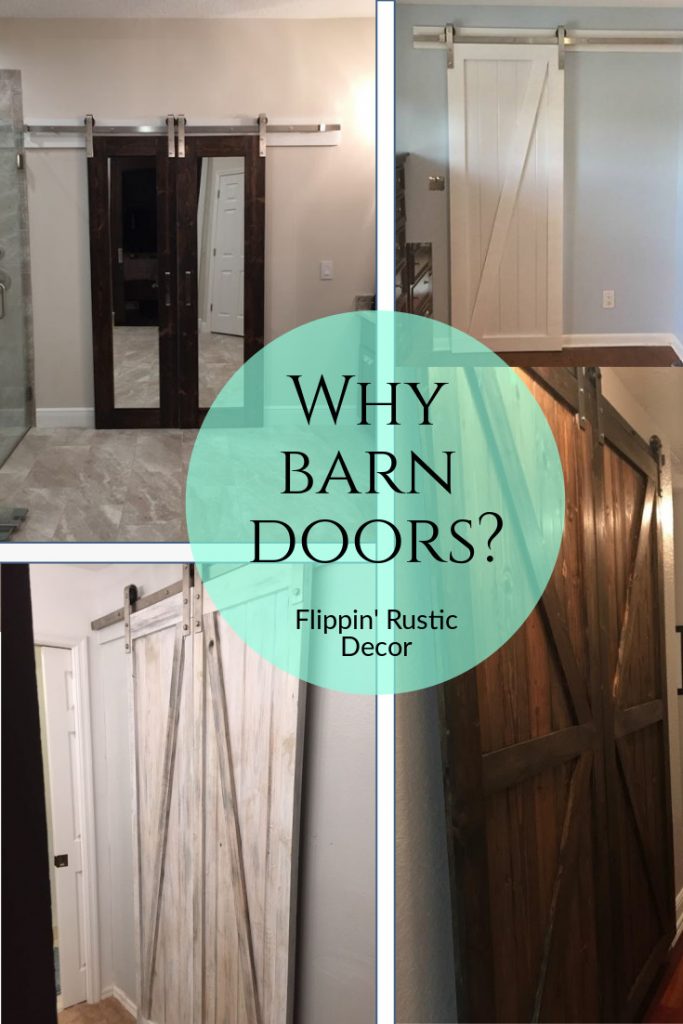 You've probably seen them in magazines and HGTV shows like "Fixer Upper"; sliding barn doors have been the latest trend in the last couple of years and they are here to stay!  According to Google Trends, interest in barn doors "quadrupled between 2012 and 2017," said Victoria Advocate. They are now becoming a staple in homes from new construction to renovations for their unique appeal and space-saving properties. A Zillow study also showed for-sale homes mentioning "barn doors" in their listings can sell for as much as 13 percent more than expected, and nearly 60 days faster than homes without them. When a design feature begins to influence home sales, it's a serious trend!
Now why choose barn doors?…
Visual appeal
When we make them for our clients I like to ask what do they like the most about them and the first and foremost reason they choose to have barn doors is their aesthetic appeal. Not only do they act like a piece of artwork but they make a statement and act as a focal point. If you really want to draw attention to this element, consider getting a pair of sliding barn doors instead of a single one and play with contrast of color, texture and style. They would definitely stand out!
Effective way to partition open spaces
In addition to their powerful visual appeal, buyers love their functionality when it comes to closing off large spaces. Barn doors eliminate the need for a wall, bringing the two spaces closer together and allowing them to function as one whenever desiredwithout adding permanence. It's like having a movable wall!
Perfect for any space
Before barn doors came into play, we would consider either regular hinged doors or pocket doors, but here is the problem with hinged doors, in a tight space they will take up the little bit of space you have and sometimes they will obstruct the path or other doorways; similarly a pocket door would need deconstructing a wall which sometimes will require you to hire a contractor depending on the location and it will just be a blah element hidden inside a wall (boring!)
On the other hand, barn doors are problem-solvers and can be situated almost anywhere. They don't interfere with pre-existing walls and doors and they are perfect for tight spaces, you just need a little bit of wall space, but if you feel like really having barn doors but have no wall space, consider having bypass barn doors ( I will discuss more about them in another post).
DIY friendly
Another great feature about them is that they are easy to make for the average person depending on the style you are going for. When tackling such a project, you have to analyze all the details from the start, size of the opening, framing, enough space to slide out, also what type of wood will you be using and what type of hardware you need? The sliding barn door kit is an important element in the overall design and structure of the whole project and they come in different sizes so make sure you choose the right one (yep it happened to me, I bought the wrong size ughh).
Adapt to any style
If the name "barn door" scares you don't be! Just because you have a barn door it doesn't mean your house will look like one. The good thing about them is that they adapt to any style. If you are going for a minimalistic look, they can be built in shaker style where crisp clean lines can be defined. For a more contemporary look, you can play with different materials and textures such as metals, glass, mirrors, rich wood and even concrete. Finally to add warmth to a space, just add a regular barn door made out of real wood where the natural imperfections of the wound like grain and knots show through, and let it do its magic.
Used in furniture pieces
Not only they have become popular in rooms but barn doors are being incorporated in furniture pieces such as media consoles, entertainment centers,buffet tables, and even vanities.
By making a few small aesthetic changes, you can introduce this trend into practically any style home. Whether you're a true rustic farmhouse style lover or more of a modern fan, there's a sliding barn door for you, my friend. A space doesn't need to be rustic to proudly feature a sliding barn door. Choices are endless and if you don't have the time or tools to build one, we can help!