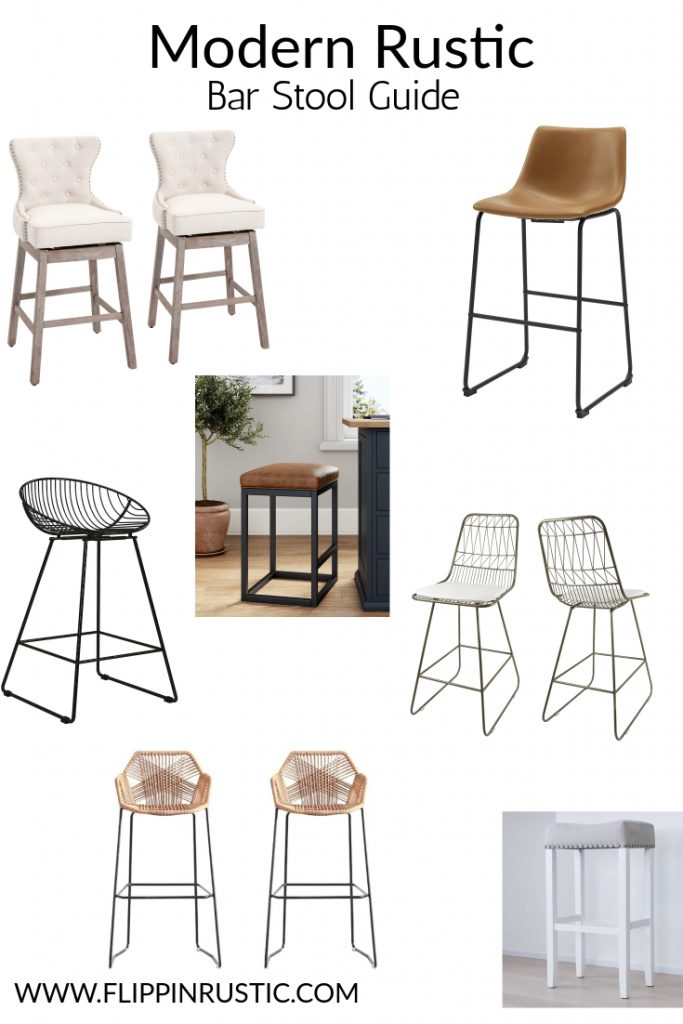 Modern Rustic Bar Stool Guide
As open kitchen floor plans with big bars become more and more popular, bar stools have become a key element in today's interior décor, which not only enhance the appearance of a room, but provide versatile seating for all types of occasions.  Modern bar stools come in a huge variety of designs, to suit rooms of any theme, you can take your pick from various style in this modern rustic bar stool guide I put together for you, including simple backless designs with solid or cushioned seats, and those with armrests and seatbacks.
Upholstered bar stools can be a great choice as you can choose from different colors and patterns, to compliment your existing décor and other furniture. I like these modern upholstered stools with vintage nail head accents.

If you prefer a bar stool with seatback this set is also a good choice
Vinyl and leather bar stools are other popular options to consider.
Alternatively, you may prefer to buy stools with detachable cushions that tie-on to the seatbacks.  This gives you the advantage of being able to change the covers for cleaning or give your room a a new look every season.
You can also try these trendy faux sheepskin seat covers on these stools.
When deciding which bar stools to buy, remember to take accurate measurements of the space available, to ensure a comfortable fit.  Bar stools should be just the right height, so they are comfortable to sit in, with adequate legroom, but close enough to the counter top for convenience.  As a rough guide, aim for a gap of around 9 or 10 inches between the seat and the counter.  Think about the positioning of your bar stools and leave enough space between each one for people to be able to move freely.  Commercial style swivel bar stools can work well in home settings too, and are great for saving space.
Hope this post makes it  easier for you to find the perfect bar stools to transform your home.
Follow us on Facebook, Instagram and Pinterest.