Remember the days when working from home meant it was either a rainy day, you woke up late, had a sick child, or you had a home repair with a ridiculous 8-hour arrival window. Keeping up with your emails for a day or two was easy enough. Honestly, working from home was  a dream to most, but now that it's a forced reality and you have to actually be productive surrounded by tons of distractions, choosing the right home office setup is not only imperative but a worthy investment of your time. So today I wanted to show you 5 tips to set up a home office. 
Choose a quiet location
I know in our current situation that may be a little challenging but try to pick a spot in your home with the fewest distractions. If you don't have a separate room, use a room partition to divide your living space from your "DIY cubicle", like this wall divider or add a functional partition that can also serve as storage (get a quote HERE).
2. Make the most of your lighting 
Good lighting can improve productivity. Use natural lighting as much as possible. If natural light is not available, get an LED desk lamp. LED lights mimic natural light, they are energy efficient and  have a long life span.
3. Invest in a good office desk 
After you've chosen a spot, it's time to pick a desk. This is where you will spend most of your time, so invest in a good home office desk that is large enough to handle paper flow, has ample storage and enough space for your monitors, stationary files, printer, etc. If you and your partner work from home, you could get a home office desk for two. When you make a custom order through Flippin' Rustic, you specify your criteria and it's built to fit your needs. To get a quote, click HERE.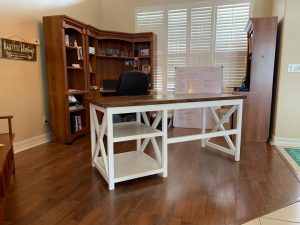 4. Get seating support
As you'll be spending a lot of time in your home office space, you should also invest in a good ergonomic chair to prevent back pain and injuries and help with posture.
5. Make it yours
Add your personality and make it yours. Your home office should reflect your spirit, taste and style while increasing your productivity. Print inspirational quotes and display them in clipboards.
                                                                                                          Source: Craft-o-maniac
Display a map of your favorite place, favorite song or an old book page in these black frames. 
Finally, add plants. Research has shown that plants boost productivity and green offices are better for workers. I like snake plants because they are really low maintenance, don't need a lot of water and don't need a lot of light.
Working from home during these tough times is definitely challenging especially if you have kids, but we are all in this together, just know you are not the only one with the dog barking in the background while you are in the middle of a call or having a kid meltdown while you are on video.  As I am writing this blog, I already had my son throw up once, went for a walk to take my  mind off, put on some music and tried to fine tune again. 
Hopefully, this post helps you set up for work. We are offering video consultations if you need any help designing and setting up, just set up a consultation HERE. Don't forget to leave a comment below and show me how you set up for work at home.