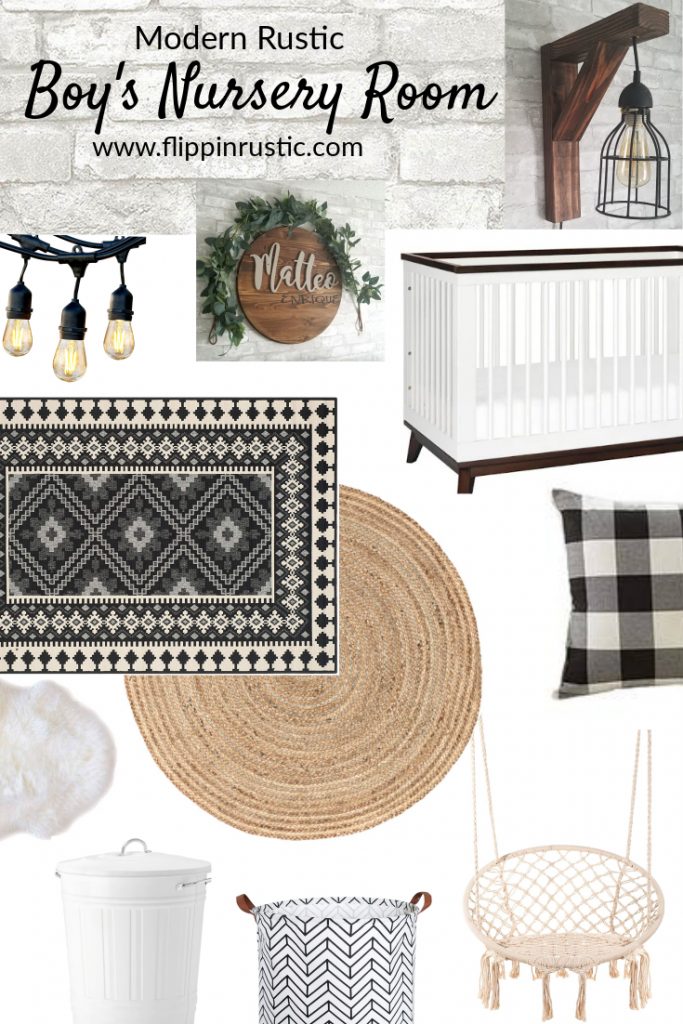 Holaaa!!! Finally I get to show you our little baby boy's modern rustic nursery room completed! These 7 months have flown by really quick, but it has been amazing to watch this beautiful soul grow, it hasn't been easy there are times that all I want to do is cry and there are times that I feel I'm the best mom ever…..lol but I guess that's just part of being a mom. Anyway, I wanted to share the design and places where we purchased everything from to get this modern rustic look.
Style:
For Matteo's room I knew I DID NOT want anything typical in a boy's nursery room but rather neutral and modern with a little bit of rustic. So while looking through Pinterest I put together different ideas and that included an accent wall, either a gray shiplap wall or a gray brick wall and as you can see I went with the brick wall, not exactly brick more like wallpaper but I looks amazing. I ended up putting this up myself when I was about 7 or 8 months pregnant and it is still looking great, so I really recommend it.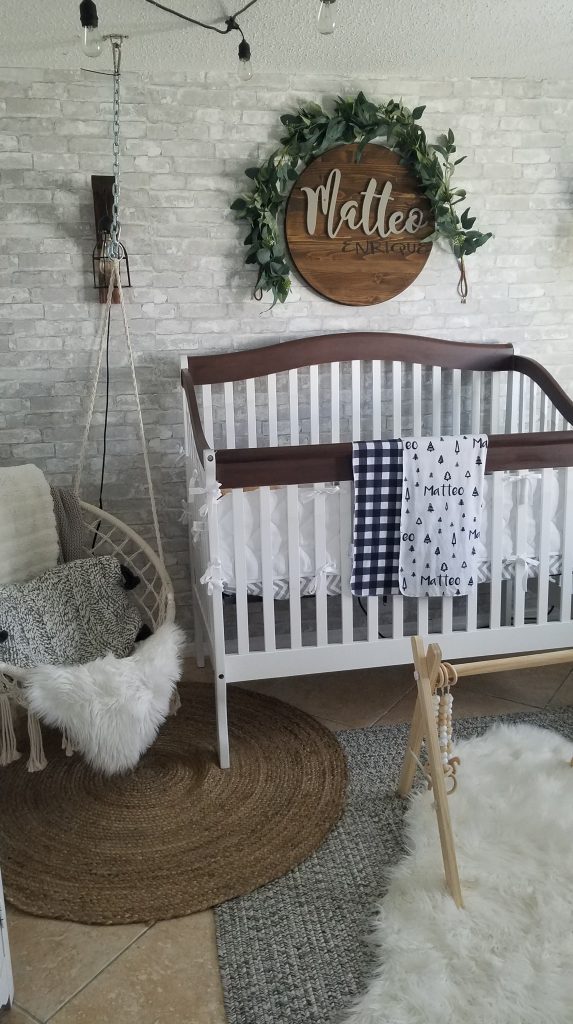 Furniture:
The changing table and the crib I wanted them to be white and brown. They have been in the family for many years and we just refurbished them and made them our own (I will be posting this DIY tutorial soon). But you can also purchase one here.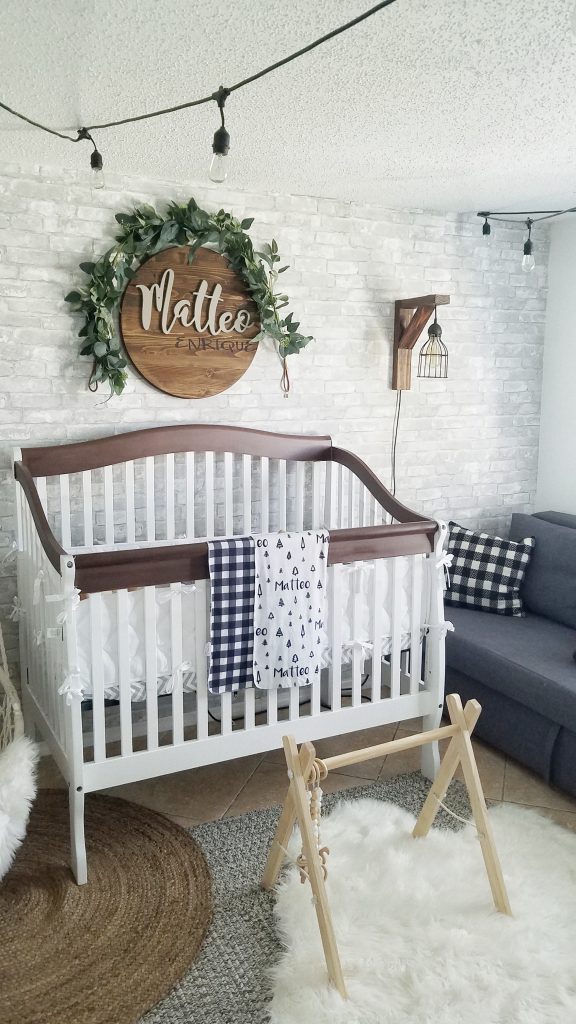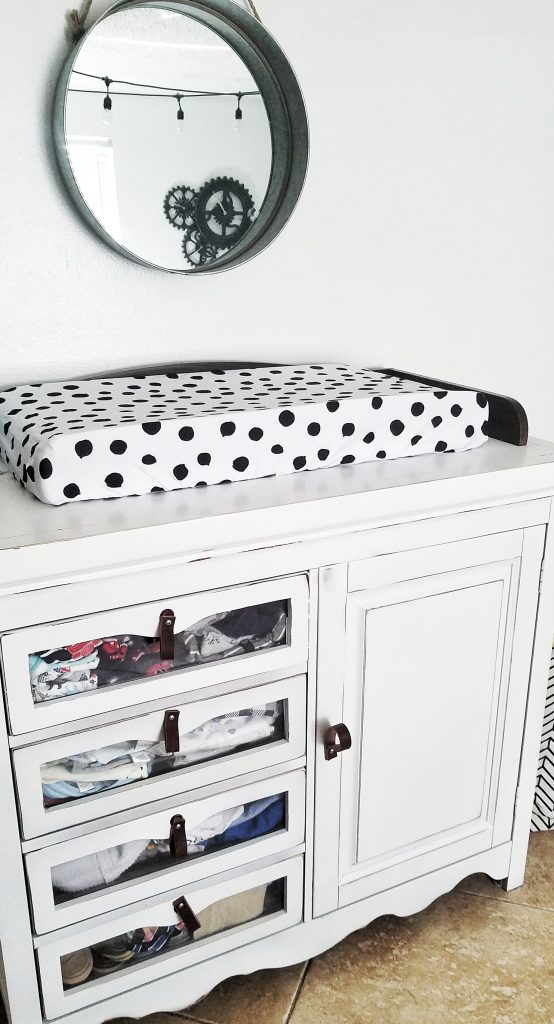 Then we just needed a rocking chair to complete the basic furniture needed in a nursery room, and I knew I didn't want a bulky rocking chair instead I wanted something different and what's more different than these trendy swing chairs I've been seeing lately on Pinterest, I think they are soooo cute.
Final touches:
So finally, I just needed the final touches, wall décor, lighting and rugs. I displayed these little wooden blocks we used as a guest sign-in at our baby shower which he can also use to play with when he grows up. I also wanted to display his name above his crib, and we ended up making this wooden name sign and the sconces on the sides which I will talk about them in another post.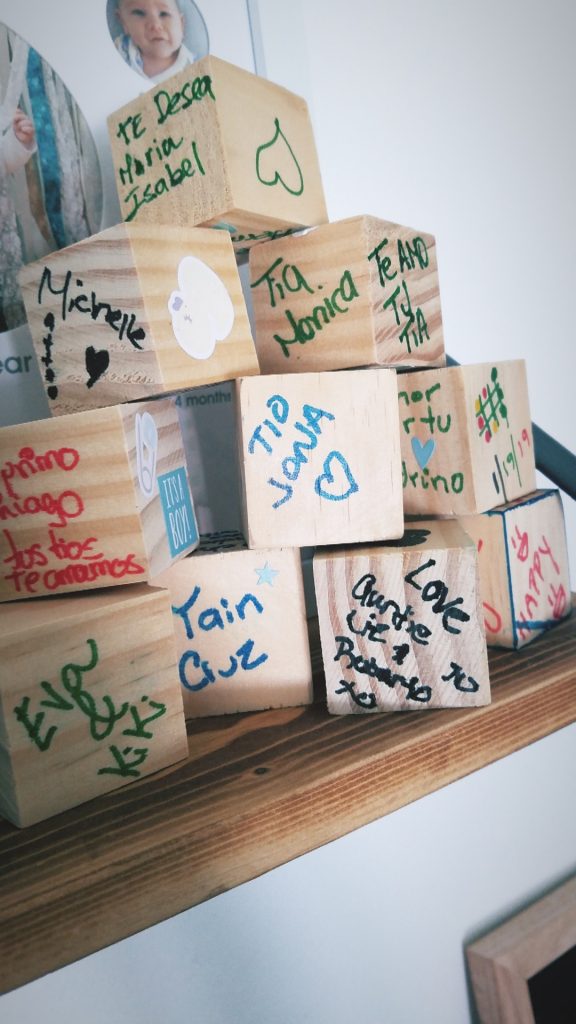 For rugs, I like layering so I layered different textures and I actually bought them at RugsUSA.com when they were half off around this time of year so I had a pretty good deal on them you just have to keep an eye out on their website for sales.
Here is a complete list of products and places where I got everything from:
Wooden sconces (DIY tutorial coming soon)
Crib and changing table dresser:  (Refurbish tutorial coming soon)
If you like this post leave a smiley face, hopefully you found this room inspiring. Don't forget to follow us on Facebook, Instagram and Pinterest. You can also follow me @IVeroAcevedo on Instagram.